Why do I need one of these?
We often feel that some questions answer themselves, and this is certainly one of those cases!  Put yourself in the consumer's shoes.  If you have two websites side by side, both offer the same type of products, they're priced about the same, and you feel that each business can be trusted to provide an authentic and quality product equally as well.
What might tip the scales between one website and the other? – A Certificate of Analysis or a Certificate of Authenticity!
If you're looking at products side by side, we feel that one of most most powerful tools at your disposal is transparency to the consumer. If you are honest and up front about your products, it shows that you personally believe in those products.  In the past, many small businesses were grown from a deep passion for the product being offered. A cookie manufacturer probably started off with someone making cookies in his/her kitchen, got an overwhelming response to them, and thought; "Hey, maybe I could sell these to a wider audience!"
Nowadays, it's so easy to click a few buttons and get an online store online.  Gone are the days where businesses required an immense amount of gall, planning, determination, and passion.  New stores selling inferior products appear every day on the internet.  When I last checked, thousands of new stores are opened every day!  It's easy to get lost in a sea of competitors who have been online for just a few weeks.  How do you stand out from the crowd?
All The Right Things
Vestibulum lobortis. Donec at euismod nibh, eu bibendum quam. Nullam non gravida purus, nec  eleifend tincidunt nisi.Vestibulum lobortis. Donec at euismod nibh, eu bibendum quam. Nullam non gravida purus, nec  eleifend tincidunt nisi.
Verified Authentic Products
We have seen a sometimes amazing increases in sales by those who have used our services and then displayed Certificates of Analysis or Certificates of Authenticity on their websites!  Part of that is because of the confidence that those store owners had in their product, and the claims they were then legally able to make as a result.  It's easy to underestimate consumer trust, and Wonderland Labs is there to help instill that trust with your consumers.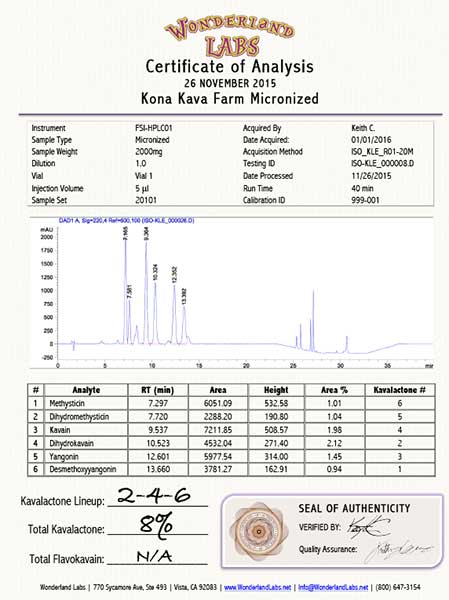 Get a Quote
Our services are far more affordable than most think! Our tests are only $99.00/test, or all 3 of the major tests requested by the FDA for $249.00.  It just takes a few clicks to describe your needs, and we'll get back to you the same day if it's during business hours, or first thing next morning if it's after hours.
See for yourself what an amazing difference Wonderland-Labs can make to your bottom line, and what it can do to boost your own confidence in promoting your products, or supplying others with products you know are as of high quality as you thought.
Trusted Results
Our Federally registered lab is 3rd party verified, and re-tested and re-verified on the regular basis to ensure the most accurate results time and time again.  Don't trust your products to any lab that doesn't have a responsive staff and full transparency.  We pride ourselves in providing results that will stand up to any scrutiny; whether it's your customers, the FDA, or whomever!
Get a No Obligation Quote Today
Join today and get access to Divi, as well as our other countless themes and plugins.