THE LAB
We specialize in Kava, Kratom, Dagga, Kanna, Lotus, and many other exotic botanicals.
Check out our FAQ PAGE for more.
Wonderland Labs was built to beyond-compliant standards for a GMP manufacturing and testing facility.  Our unique facility is also governed by a painstakingly drafted set of SOP's (Standard Operating Procedures) that include PhD developed verification procedures for every series of tests that we run.  Coupled with all required licenses, permits, and registrations, including a Federally-registered EPA number; we're proud of our strict adherence to protocol and accuracy.
WE CAN PROVIDE SAME-DAY RESULTS FOR IDENTITY & 48-HOUR RESULTS FOR BIOLOGICAL TESTING
We can run everything from USP and FDA-BAM methods for detecting pathogens in materials, to PCR testing (And other DNA testing methods), as well as pesticide testing and a variety of other tests to ensure your material is safe for consumption.
Check out our sister site at Florascience, Inc. to see the full menu of who we are and what we do.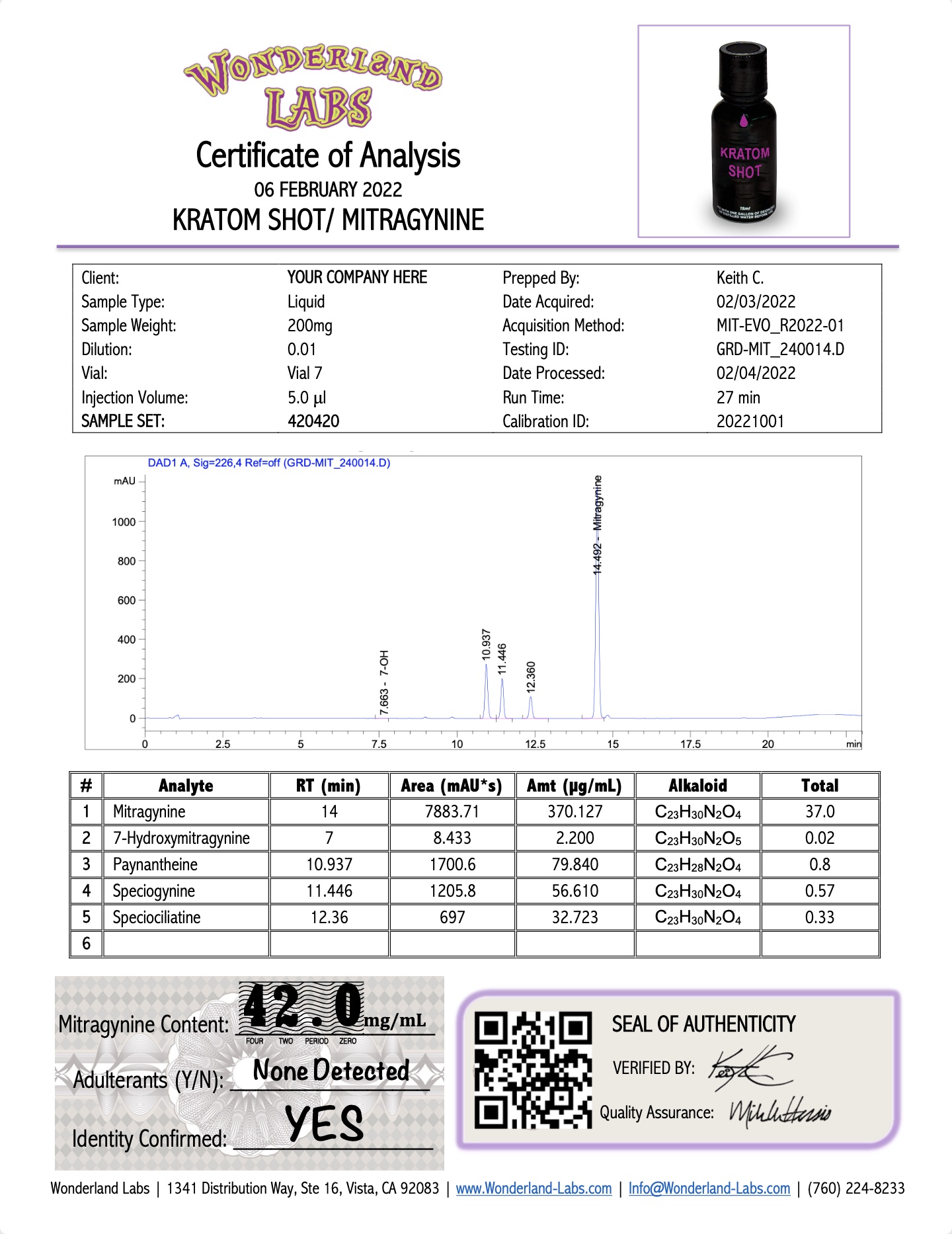 One of the main reasons clients come to us is to end up with a Certificate of Analysis for their products.  A Certificate of Analysis accomplishes several things; it provides you and your clients/customers with verification of the identity of your material or product, immediately increasing trust in your brand. It also shows the amount of key components of your material.  For example, the Kavalactone percentage and the Kavalactone Lineup are key aspects of any Kava product.  The Certificate of Analysis contains that key information.
We not only have the fastest turnaround times in the industry, we have the best pricing as well.  There are giant like Chromadex who can get the job done, but it will be vastly more expensive, with a much greater lead time.  Wonderland Labs is here to take care of the "small guy" as we focus on R&D-sized runs of products, giving your new company a chance to compete in a larger global market.

Wonderland Labs Contact Form