Biological
Biological Contaminants

E. coli, Salmonella, and others

Stamped, Signed, Embossed Certificate

Instant Results via Client Dashboard

48-72 Hour Turnaround Time *

A la carte available
Identify/Quantify
Identity Confirmation

Material Fingerprinting

Alkaloid/Lactone Percentage

Stamped, Signed, Embossed Certificate

Instant Results via Email

24-48 Hour Turnaround Time *

Same Day for Emergencies
Heavy Metals
Heavy Metal Presence

Lead, Mercury, NICKEL, and others

Stamped, Signed, Embossed Certificate

Instant Results via Email

4-5 Day Turnaround Time *

A la carte available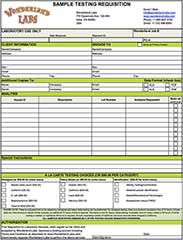 Exact pricing is above. We are happy to provide quotes, but it will just be multiples of the exact prices in the tables above.  If you still have questions or just want to make sure we're real people, feel free to call 800-647-3154 OR, simply begin the process of sending us your material:
ONLINE Sample Submission Form (100% ONLINE / NO DOWNLOAD)
OFFLINE Sample Submission Form (DOWNLOAD / FILL DIGITALLY / PRINT)
PLEASE NOTE: WE ALSO OFFER PCR, DNA, PESTICIDE & NICKEL TESTING – JUST ASK OR REQUEST!
Need something else? Use our Contact Us page. Tell us the details of your project, and we'll respond with an accurate quote and timeline for the work. PCR testing is a DNA test, and can be completed within 24-48 hours, but it will not tell you if the pathogen is living or dead. Only living bacteria is dangerous.
Want to know HOW MUCH MATERIAL TO SEND, WHAT CONTAINER TO PUT SAMPLES IN, HOW TO PAY FOR TESTING, WHAT TESTS TO GET,  or any other questions? Please check out our vividly clear, easy-to-understand FAQ PAGE for concise answers to all your questions.
SIMPLIFIED PRICE LIST:
Identification/Quantification ($119.00): We will positively identify the material you have provided, and provide you with the key Kavalactone or alkaloid content within the material. This test typically takes 24-48 hours.
Heavy Metals ($129.00): We test for Arsenic, Cadmium, Lead and Mercury. Each test is $35.00 if ordered individually, although the FDA requires those core 4 for foods and supplements. Nickel is a new add-on for just $25.00.  This test typically takes 48-72 hours.
Biological Contamination ($119.00): We test for all major contaminants, and offer an FDA-compliant package of Aerobic Plate Count, Yeast, Mold, E. Coli, Coliforms, Staphylococcus, and Salmonella. This test typically takes 72-96 hours.
We provide stamped and signed certifications from our FDA and EPA registered manufacturing and testing facility in addition to emailed PDF files for quick reference.
*  Turnaround times are calculated once your material is up next in the queue. BIO turnaround times start on APRIL 1, 2020. Until then, our turnaround time is 8-12 days. ALSO, despite sending us material overnight, it doesn't automatically mean your sample will be tested that same day, unless you've paid for Express Service. Express service is 1.5x the normal fee to get results in less time, and it's 2x the normal fee to get your results within 24 hours for Alkaloid/ID, 72 hours for Heavy Metals, and 4-6 days for Biological.
KEY POINT: ONCE WE RECEIVE YOUR MATERIAL AND ASSIGN IT A SAMPLE SET, WE WILL CREATE YOUR WONDERLAND CLIENT DASHBOARD. ONCE WE CREATE YOUR CLIENT DASHBOARD, WE WILL SEND A LOGIN VIA EMAIL. ONCE WE DO THAT, WE WILL CREATE YOUR INVOICE AND SEND A SECOND EMAIL ALERTING YOU THAT YOUR INVOICE HAS POSTED AND IS READY TO PAY.