WE ALSO OFFER PCR, DNA, PESTICIDES, NICKEL, NUTRITION / SUPPLEMENT FACTS, PLUS A WIDE RANGE OF OTHER TESTING – JUST ASK!
Need something else? Use our Contact Us page. Tell us the details of your project, and we'll respond with an accurate quote and timeline for the work.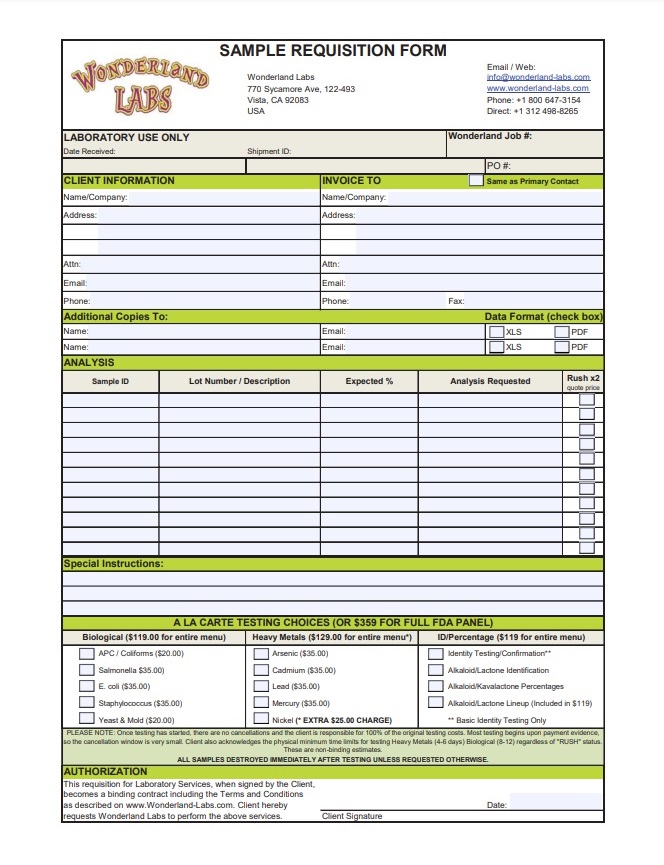 THE FEW STEPS TO GETTING STARTED:
00. Most new clients wonder WHAT TESTS TO GET. By default, we provide what is called the FULL PANEL, which is required by the FDA for any material that is intended for consumption, whether it's a food or dietary supplement. The FULL PANEL includes individual 3 tests for 1 sample, details of which are on the GET A QUOTE page. This includes ID/PERCENTAGE (We'll tell you if your material is what you think it is, and what the alkaloid content is in it.), as well as BIOLOGICAL (are there any pathogens in your material?), and HEAVY METALS (are there any dangerous levels of metals such as lead in your material).
PART 1:
01. Find out HOW MUCH MATERIAL TO SEND based on the tests you want by reading the "HOW MUCH TO SEND" question on the FAQ page. In a nutshell, we need 30 grams of standard raw material for a FULL PANEL. If you have extracts, especially expensive ones, you can send less – chart is on the FAQ page under "HOW MUCH TO SEND".
02. PACKAGE your material in a DOUBLE BAG. You would be surprised how much product is lost because it leaks out all over your package, even if it's powder. IF you have a liquid, please place it in bubble wrap, inside a sealed bag like a ZipLok. In short, just be smart and careful with your packaging.
03. KEY STEP: Fill out or download the SAMPLE REQUISITION FORM found when you scroll down on the "GET A QUOTE" page OR use our latest 100% ONLINE SAMPLE SUBMISSION FORM found on the same page.
The gold standard for pathogen testing is the "USP" method. A more forgiving, but less-accepted standard called the "FDA-BAM, CH 4" method. TELL US WHICH YOU PREFER. If you need a fast 48 hours DNA test using the "PCR" method ($99.00 per pathogen). The PCR method only detects for pathogens; it cannot determine if they're living or dead. Only living pathogens are potentially harmful.
If you don't specify, we choose what we feel is the most appropriate test for your material.
We also do pesticide testing for $249.00/sample – just request it on the form in the Description section.
04. If you're wondering WHERE TO SEND THE SAMPLE, it's on the Sample Requisition Form. We are Wonderland Labs, 1341 Distribution Way, Suite 16, Vista, CA 92081. If you still have our PO BOX address at Suite 493, that still works, but it will get to us slower.
SO, PART 1 IS TO GET US YOUR MATERIAL, PACKAGED PROPERLY WITH THE PROPER AMOUNT AND WITH A SUBMISSION FORM.
PART 2:
05. If you're wondering HOW LONG WILL TESTING TAKE, the short answer is this:
ID/POTENCY can be done SAME DAY for 2x the cost. We can do NEXT DAY for 1.5x the cost. STANDARD ID/POTENCY typically takes 48-72 hours and is $99.00. If you like texting, we will text you updates.

BIOLOGICAL:

We have the STANDARD 8-10 DAY biological panel for $89.00. IF you want the 3-DAY EXPRESS BIO, that's just $129.00.
HEAVY METALS: We have our STANDARD 4-5 DAY heavy metals panel for $99.00. We can do 3-DAY EXPRESS for $129.00.
06. If you're wondering about your account and your WONDERLAND CLIENT DASHBOARD, you can log in using that link.
PART 2 IS TO SIMPLY WAIT FOR US TO RECEIVE YOUR MATERIAL, CREATE YOUR LOGIN AND CLIENT DASHBOARD, AND SEND YOUR LOGIN DETAILS. IF YOU HAVEN'T INCLUDED PAYMENT, WE WILL THEN ISSUE YOUR INVOICE, WHICH WILL BE AVAILABLE ON YOUR CLIENT DASHBOARD.
07. HOW TO PAY: We have a range of payment options, just call or email. The options will also be detailed on your Invoice once it's issued. THE FASTEST METHOD IS TO SEND A CHECK WITH YOUR SAMPLE – WE WILL START IT THE MOMENT IT ARRIVES.
ONCE YOU GET YOUR INVOICE, YOU NEED TO SEND PAYMENT EVIDENCE OR YOUR ACTUAL PAYMENT, ALERTING US HOW AND WHEN YOU PAID. PAYMENT EVIDENCE IS A SCREENSHOT OF YOUR ELECTRONIC TRANSFER, OR A PICTURE OF YOUR SIGNED PAPER CHECK AND THE ENVELOPE IT'S BEING SENT IN, ETC. SEND THAT TO INFO @ WONDERLAND-LABS . COM.
08. If you're wondering HOW TO SEE YOUR RESULTS, you will be given a CLIENT DASHBOARD. All of your projects, past and present will appear on that dashboard. We can also email any certs to you, and can verify the authenticity of any cert you encounter.
09. IF YOU HAVE MORE QUESTIONS: Please spend a few minutes and read the FAQ and the GET A QUOTE pages. I can promise you that 99% of all questions we're asked 12-24 times a day are answered, in detail. Empower yourself, spend a few minutes and read all you need to know about the testing process. If your question isn't answered on the website, we are, of course, here to answer your questions. Reach us at (800) 647-3154.