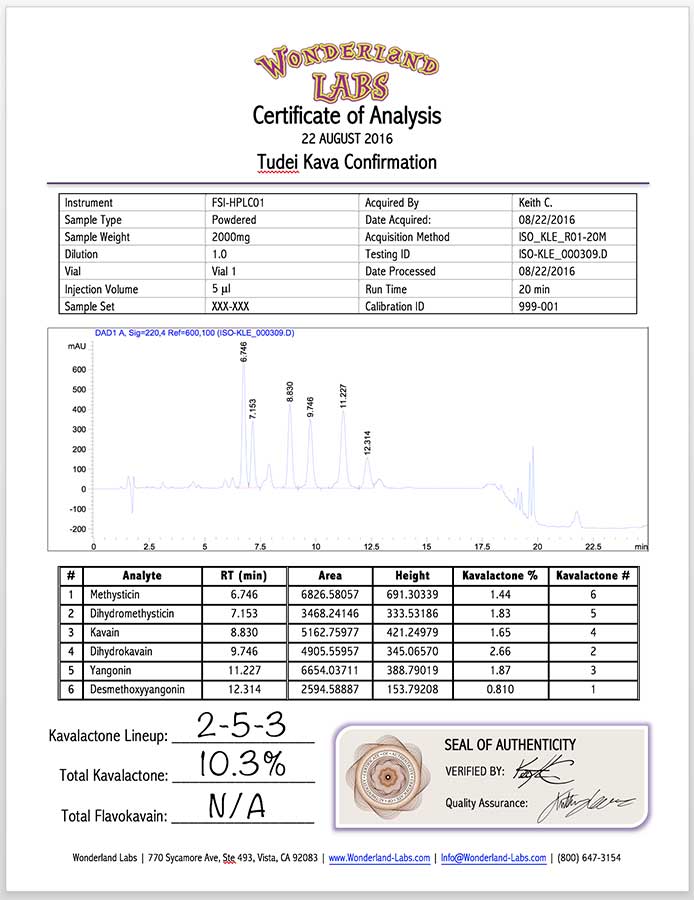 This Kava has garnered more attention in the past couple of years than we've ever seen. There are people on both sides of the fence in relation to whether this product is harmful to consume in large amounts or on a regular basis. At Wonderland-Labs, we don't make any judgement calls, we simply provide Identity Testing for any product that comes through our doors.
This is an example of the Identity/Percentage side of our testing package. This leg of the 3 test package costs $99.00, and is one of the core tests that people who are attempting to make purchase choices for Kava get nearly automatically.
Another clue as to the origin of this Kava is the Kavalactone lineup. Notice how this one is a solid 4-2-3 lineup. This occurs only in noble root, and this strong of a Kavalactone lineup indicates that this product is pure, and not adulterated with Tudei Kava. Tudei Kava isn't necessarily "bad" Kava; it's a faster growing variety of Kava, and in the 1990's, when demand for Kava was reaching all-time highs, many short-sighted farmers replaced their weaker, slower-growing Kava with faster, stronger, Tudei Kava. Now, it's a very popular adulterant to pure Noble Kava Root, and it's actually getting more difficult to find Kava root that hasn't been touched with some portion of Tudei Kava.
Tudei Kava typically has a Kavalactone lineup of 2-5-3. When it's blended with a 4-2-3 variety, the resulting Kavalactone lineup ends up being a 2-4-3-5, with the "3" and the "5" only being a tiny fraction less than the "3" Kavalactone.
For just $99.00, we will provide you with all of this information, as well as a fancy signed and embossed certificate, from a fully registered, beyond-compliant FDA testing facility. We have the fastest turnaround time of any lab for the same price, and we will send you results the instant we complete each test via PDF. We've got lab techs who have been personally trained by lab expert Scott Whitney, PhD, and who love testing anything that gets thrown their way.
We're continually updating and expanding our portfolio of herbs that we can test. Something that most people don't know is that in order to perform a test of a material, we need a pure sample of the material as a reference, as well as an isolated alkaloid that's contained within the material you're testing. We need to know what to look for and at what frequency in our HPLC or Gas Chromatography unit, otherwise, we spend a great deal of time measuring different light wavelengths, looking for a peak. And, we specialize in a portfolio of plants that most labs are unfamiliar with. Plants such as Kava Kava, Kratom, Wild Dagga, Kanna, B. caapi, Blue Lotus, Blue Lily, and so on round out our list of GRAS (Generally Regarded As Safe) botanicals that are commonly made into dietary supplements.
We're not limited to these exotic botanicals, but we pride ourselves on the accuracy of our testing results, and the variety of botanicals that our Certificate of Analysis cover for any Lab Certified raw material of finished product that arrives at our lab.